Celebrating 25 Years of the ADA
at the Disability Unity Festival
in San Francisco!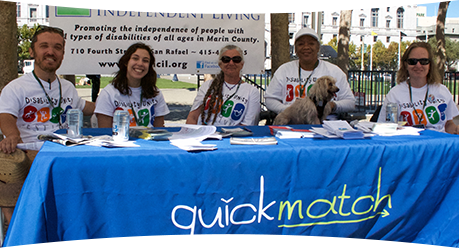 Congratulations to everyone from all your
friends and partners of QuickMatch!
Hello, my name is Donna. I live in San Anselmo and I have had many years experience in caring for the elderly. I am first and foremost interested in personal care such as meal preparation and helping with hygiene, bathing, massaging and exercising. I am not interested in housework, I am more interested in the care of the individual. I should tell you that I don't drive but I have had many, many jobs and I have never had a problem reaching the jobs and doing my jobs, and so that's what I have to say I prefer working in the Central Marin area, but I am willing to go as far as Mill Valley. Thank you. Available noon on with 4 hour minimum
Let's get started…
So you want to join QuickMatch? Fantastic!
To get started, click one of the three choices to the right and then send us an email. It's that easy!
One of our QM reps will contact you within two business to discuss how we can get you started with QuickMatch!