Celebrating 25 Years of the ADA
at the Disability Unity Festival
in San Francisco!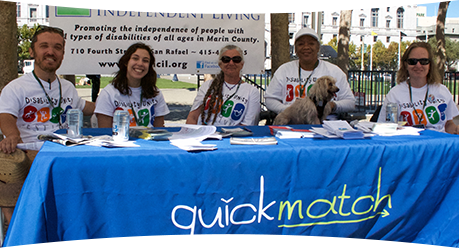 Congratulations to everyone from all your
friends and partners of QuickMatch!
meet QM caregiver,
Cynthia
I have been in the healthcare field for over 15 years. . I love to help others. I am a trained med tech and CPR. I also have training in first aide. I have an associate degree in massage therapy. This is the perfect field for me. I truly love what I do.
Let's get started…
So you want to join QuickMatch? Fantastic!
To get started, click one of the three choices to the right and then send us an email. It's that easy!
One of our QM reps will contact you within two business to discuss how we can get you started with QuickMatch!