Celebrating 25 Years of the ADA
at the Disability Unity Festival
in San Francisco!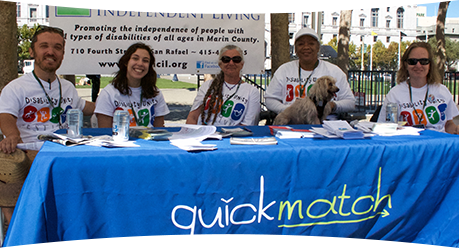 Congratulations to everyone from all your
friends and partners of QuickMatch!
meet QM caregiver,
Latica
Hi, my name is LaTica. I am currently enrolled in college and my major is medical assistant. I am CPR certified as a well as having First Aid experience. I am also certified in the area of vital signs. I am a very energetic person that enjoys caring for others. I have a lot of personal and professional experience with elderly and disabled persons. I have experience in housekeeping. I have been employed at several hotels in the past 11 years. I look forward to having the pleasure of meeting you and assisting you with everyday task that you might need assistance with. I have experience with a family member that is a stroke and dementia patient and I have cared for her since 2008.
Let's get started…
So you want to join QuickMatch? Fantastic!
To get started, click one of the three choices to the right and then send us an email. It's that easy!
One of our QM reps will contact you within two business to discuss how we can get you started with QuickMatch!