Celebrating 25 Years of the ADA
at the Disability Unity Festival
in San Francisco!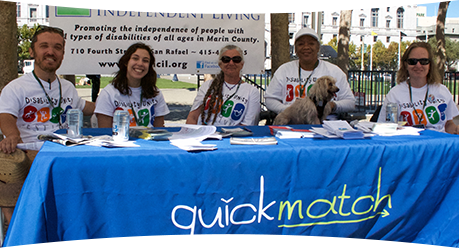 Congratulations to everyone from all your
friends and partners of QuickMatch!
meet QM caregiver,
Yvonne
My clients mean everything to me. If you want quality of time, then I am the one you are after. To best describe my outlook as a caregiver would be that I am in it for the long haul, and not for the money. The people I take on as clients matter to me on a profession and personal level. I believe in giving clients personalized care based on getting to know them and their needs. If the family is involved in the care, I am excellent with communicating the well being of their family member. I believe in advocating for my client and their well being. If you would like to know more about me, please feel free to contact me.
Let's get started…
So you want to join QuickMatch? Fantastic!
To get started, click one of the three choices to the right and then send us an email. It's that easy!
One of our QM reps will contact you within two business to discuss how we can get you started with QuickMatch!