Celebrating 25 Years of the ADA
at the Disability Unity Festival
in San Francisco!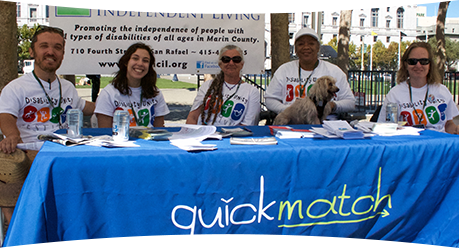 Congratulations to everyone from all your
friends and partners of QuickMatch!
meet QM caregiver,
Carnita
Hello my name is Carnita. My mission is to safely and properly assist elders with disabilities with their ADLs (activities of daily living) I provide support and assistance in helping people become more independent and self-motivated. I believe elders deserve to age in their own home. So I provide direct care with patience and compassion feel free to contact me anytime by phone or by email. Thank you and have a nice day. click here to view a video of Carnita
Let's get started…
So you want to join QuickMatch? Fantastic!
To get started, click one of the three choices to the right and then send us an email. It's that easy!
One of our QM reps will contact you within two business to discuss how we can get you started with QuickMatch!